By Kavi Naidoo
16/12/2020
After an exciting afternoon game drive, spent mostly trekking and finding a breeding herd of Buffalo, we made our way for sundowners in the riverbed behind the camp. Being the last night for our guests we wanted to make it extra special and set up an attractive oasis with snacks and refreshments to enjoy around an open fire while viewing the beautiful sunset and absorbing the sounds of the later afternoon.
As it got darker with the sun now completely hidden behind the horizon, we decided to make our way to the game vehicle to begin the evening part of our game drive – But not Before our camp staff suddenly stopped staring in one direction as they packed up and made their way back to the camp. A lone Buffalo bull had just silently came to the waterhole in front of the Lodge's main deck to have a sundowner drink of his own!
He soon left as peacefully as he arrived.
I didn't want to risk Kaylina and her team continuing their way up the bank that leads to the Lodge as there was no visibility of this Buffalo bull, so I quickly gave them a lift with the game vehicle back to the Lodge.
Only moments into our evening game drive with spotlights on but not complete darkness yet, I spotted a breeding herd of elephants about 50meters ahead.
I stopped and gave the group a few pointers on what to expect and what not to do should some individuals from the herd come close to the vehicle.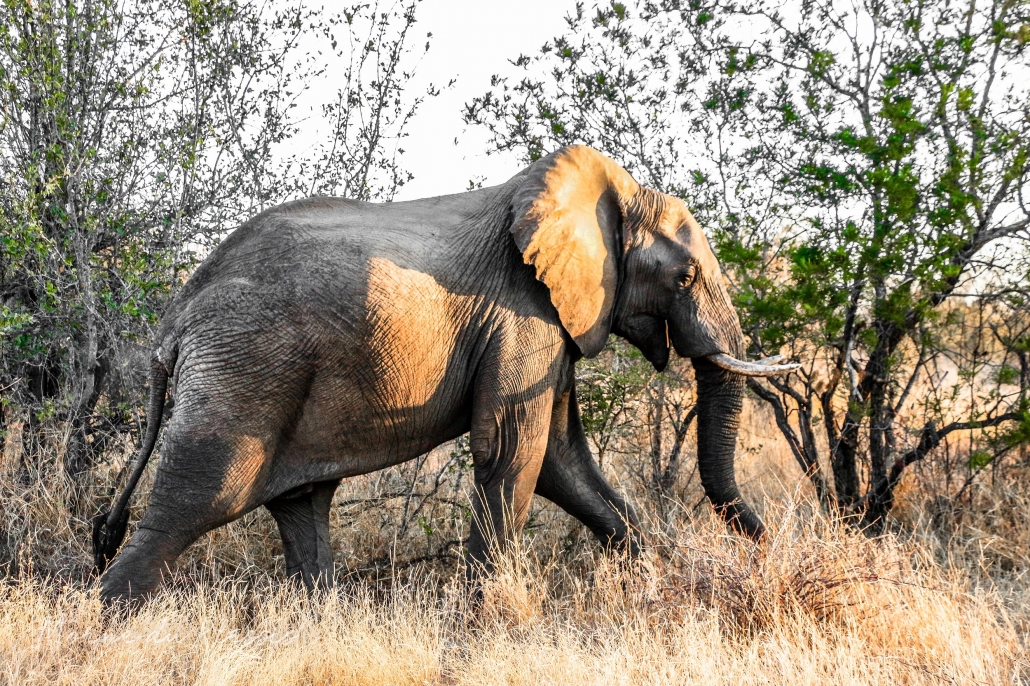 I then made my approach toward the herd,  assessing their mood and behavior at the same time. They seemed very relaxed by our presence and I managed to get into a great position as the entire herd approached from the western side towards the vehicle. I switched off the engine as well as the spotlight,  spoke in a low voice to the group "they are so relaxed, they are going to make their way right to us….let's be quiet"
And they just kept coming…both in numbers as well as in distance. Until we were surrounded entirely by this breeding herd as they stopped and started feeding on vegetation all around the vehicle.
So you get close and then you get REAL close…and this is what one of the young bulls in the herd did as he approached Kurt sitting behind me, lifting his trunk and having a sniff toward him – less then a meter at this stage as we could easily have reached out and touched him.
I kept talking in a low voice, both to keep the herd and the guests relaxed.
The matriarch also approached much closer with a very young calf right beside her. This little guy seemed to not be bothered by us at all as he came even closer and plunked himself on the ground,right next to my front right tyre, getting a short nap while his mum and family continued to feed. Two other young bulls played in front of the vehicle with short intervals of laying flat – As others continued their business all around the vehicle, almost specifically gathering around the vehicle to do so.
What was really special about this sighting, was the mood of the herd. They were so relaxed and with almost no vocalizing at all. The setting created with absolutely no artificial lighting around, being surrounded by these grey majestic giants, even with very young calves fast asleep right beside us, quickly climbed up my ranks from the regular elephant sighting to an unforgettable one!
We had a feeling as if we were accepted by this herd giving us a chance to view and experience what it's like being part of the herd for a while. It was really special and simply unforgettable!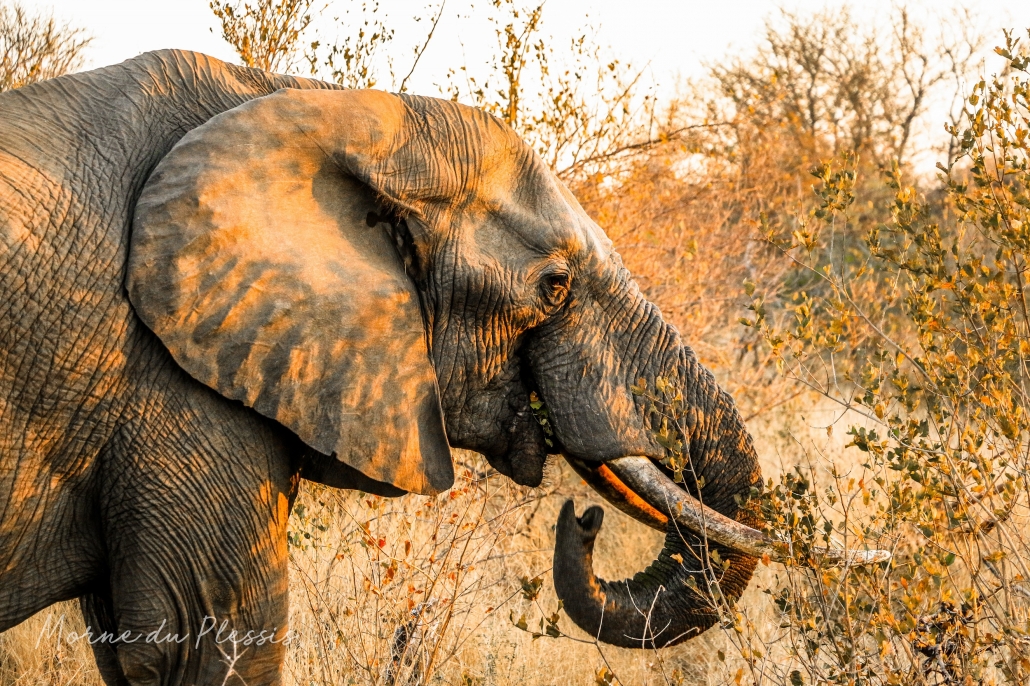 After some time, the matriarch decided it was time to move on while her calf still layed flat next to us. She simply and so peacefully nudged him with her rear leg as so to say "Come little guy, it's time to move on" and he diligently obeyed, as the rest of the herd also followed. We had a feeling of appreciation and acceptance as this completely wild herd of elephants with young in a large wild area took somewhat of a liking to us that evening! It was very special!